Cincinnati Icons – Successful Entrepreneurs in Buckeye State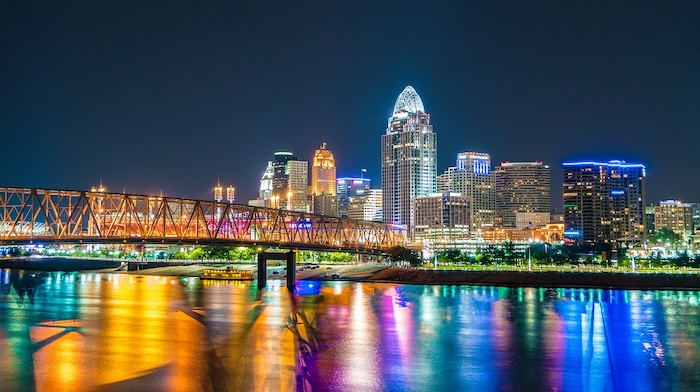 Posted 31 minutes ago
Proposed by come on daddy
Originally posted on GoDaddy Newsroom
By Stacey Hartman
Cincinnati is a city as diverse as its many nicknames: Athens of the West, Paris of America, Cincy, The Queen City or The Nati. And within this diversity, entrepreneurs build their successful businesses.
In our latest season of Icons, we feature entrepreneurs from Cincinnati, hosted by Cincy local Anna Mae Groves. Anna Mae is a beauty expert who founded the lifestyle website AnnaMaeGroves.com.

Photo: Anna Mae Groves, AnnaMaeGroves.com
Join us as we meet Anna Mae and profile other successful entrepreneurs in our latest episode of Icons.
Sweets and Meats

Photo: Kristen Bailey and Anton Gaffney, Sweets and Meats
Sweets and Meats is a story of community and passion. Anton Gaffney and Kristen Bailey had corporate jobs and were unhappy. After five years, the duo quit and turned their passion for hosting barbecues into a full-time business.
Anton and Kristen attribute their success to their community and friends as their business sales have increased by 26% during the pandemic. And despite business uncertainty during the pandemic, they continued to stand up for their employees and customers, giving each employee $2,500 at the start of the pandemic. They fought hard for their passion, and it paid off.
Empire Beauty Bar

Photo: Rebecca Gibson, Empire Beauty Bar
Rebecca Gibson started her business two years ago at the start of the pandemic. She had worked as a nurse for 20 years with a braided hair hustle. But when the salon she worked at told her it was closing, her husband found an available spot that was within his price range. And so, Rebecca went into business with Empire Beauty Bar.
Over the years, Rebecca has mentored 89 women to become entrepreneurs themselves. She credits her 20 years in healthcare and her empathy and support for her success with her business, clients, employees and mentees. Says Rebecca, "there is no ceiling to my potential."
InoarG

Photo: Lasha "Blu" Cauthen, InoarG
Lasha "Blu" Cauthen has started doing yoga for herself and relieving stress. She had friends who wanted to learn yoga, so Blu took her friends and family to class. However, it was immediately apparent that they were the only blacks in the class. Blu worked to get her yoga certification, and fresh out of training, she knew she had to open her own space, InoarG Yoga Studio, where everyone felt welcome.
Join us as we meet these entrepreneurs – and more – in our Cincinnati Icons.
If you want to watch our previous season of Icons, you can watch it here.
Learn more about GoDaddy here
come on daddy
come on daddy
GoDaddy empowers everyday entrepreneurs around the world to provide all the help and tools they need to succeed online. GoDaddy is where people come to name their idea, build a professional website, attract customers, sell their products and services, and manage their work. Our mission is to give our clients the tools, ideas and people to turn their ideas and personal initiatives into success. To learn more about the company, visit www.GoDaddy.com.
About GoDaddy For Good
GoDaddy is focused on creating more inclusive opportunities for everyone in the communities where we work, live and play around the world. We rally around inclusive entrepreneurship and other critical local needs that enable people to succeed through philanthropic and in-kind giving, volunteerism, strategic partnerships and advocacy.
Empower by GoDaddy
Empower by GoDaddy is GoDaddy's global community and philanthropic program that provides entrepreneurs in underserved communities with training, tools, and peer networks to accelerate their journeys. GoDaddy supports entrepreneurs in underserved communities by building their confidence and skills to boost their small business' digital presence. Entrepreneurs engage in personalized learning experiences, work 1-1 with GoDaddy volunteer coaches and local mentors, and have access to comprehensive services, in-kind products and networks that drive their small business success .
More come on daddy