Construction equipment manufacturers consider going electric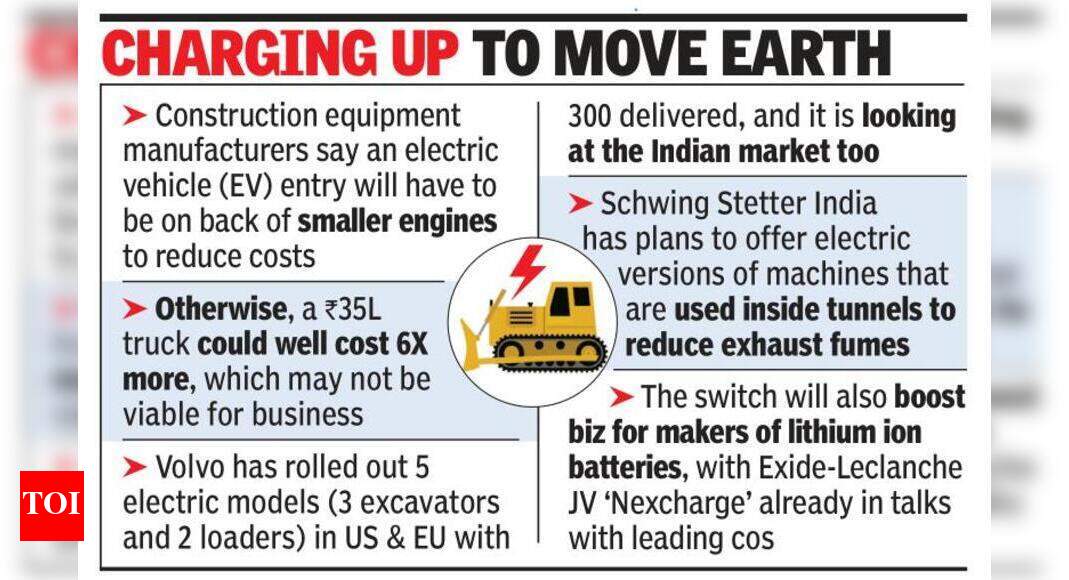 Chennai: After passenger vehicles and utility vehicles, another segment is gearing up for an electric charge: construction and industrial equipment. Big names in the industry like JCB, Volvo CE and Schwing Stetter are already working on electric versions of some of their big yellow machines or conducting feasibility studies for launching some global electronics applications in India.
"The construction equipment industry is seriously looking at electric mobility options, especially for applications where we can pack a viable battery size," said Dimitrov Krishnan, Managing Director of Volvo CE India and President of Indian Construction. Equipment Manufacturers' Association (ICEMA). Volvo, he said, has five electric models it has just launched to the world: 3 excavators and 2 loaders. These are available in Europe and the United States and already 300 machines have been delivered. "We will also launch them in India and are currently evaluating options," Krishnan said. "Because of the higher cost, we will have to find a viable business model," he added.
Others, like Schwing Stetter India, are looking for specific areas where e-mobility solutions can be used. "A 100 horsepower engine product that works inside tunnels used for subway, road or hydropower projects can use electric versions efficiently because it will reduce exhaust fumes. We are trying to convert apps like these to electric versions," said VG Sakthikumar, MD of Schwing Stetter India. With the production of lithium-ion batteries being localized, both by Indian players and multinationals, the supply of batteries is no longer an issue, he added.
Indeed, the first steps of the construction equipment industry in e-mobility are also an opportunity for local battery manufacturers. Take Nexcharge, a joint venture between Exide and Swiss lithium-ion battery maker Leclanche, which is already working with companies on electronics applications. "Earth-moving and off-road equipment manufacturers are opting for forklifts, excavators, etc. powered by lithium-ion batteries, and a number of OEMs are working with us to electrify construction equipment machinery. We are working with JCB, for example, although the numbers are still low," said Mehul Shah, Vice President (Transport BU) at Nexcharge.
Construction equipment companies say the entry of electric vehicles will come with smaller HP-powered machines, otherwise the cost variable won't work. "A mix of trucks that costs Rs 35 lakh will cost 6 times more in electric variant and will not be viable," Sakthikumar said. To make the math work, smaller motors will switch to electric variants. The construction industry sold 93,000 units in calendar year 2021, up from 75,500 units in 2020, but below its sales peak of 98,000 in 2018.
FacebookTwitterLinkedInE-mail