How We're Challenging a New York Gas Expansion in Federal Court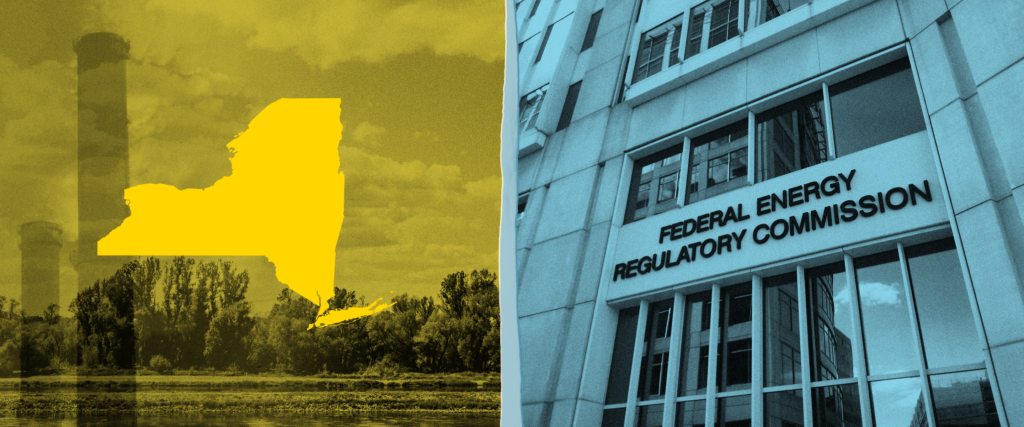 PHOTO CC-BY RYAN MCKNIGHT / SOURCE
by Adam Carlesco
In the North East, a gas infrastructure project threatens the backyards of thousands of people, promising more emissions and pollution. The proposed Tennessee Gas project would expand gas compression facilities, one in Pennsylvania and one in New Jersey. The project also includes a new facility in New Jersey less than a quarter mile from a reservoir that supplies water to 3.5 million residents.
The Tennessee Gas project would increase supplies of fracked gas sent through the East 300 pipeline to the New York metropolitan area. And the Federal Regulatory Commission (FERC) has given the green light to the project. But we know FERC failed to do their due diligence.
This month, we filed a petition with the United States Court of Appeals in DC challenging FERC's approval.
FERC refuses to consider indirect effects of pipeline projects
To get started, pipeline projects require "Certificates of Public Convenience and Necessity" from FERC. To issue them, the FERC must analyze the environmental impacts of the project, including the so-called "indirect" impacts. These include climate emissions from gas extraction and local air pollution from gas combustion in homes and businesses.
Food & Water Watch recently beat FERC in court after failing to consider the indirect effects of the pipeline infrastructure it approves. But the Commission continued to ignore the clearly foreseeable indirect effects with its approval of East 300.
Providing more gas supplies throughout the life of the proposed East 300 additions would require more drilling and fracking. The commission needs to know that. It has the data to take into account everything from well production averages to gas volumes, infrastructure lifetimes and relevant shale plays. But FERC decided to ignore these glaring problems and approve this project with little critical scrutiny.
Not only will the project increase drilling; it will lead to air pollution at the end of the pipeline. For example, leaks of degraded methane in the distribution networks. End users burn it when they turn on their gas stoves or heaters. This methane leads to ozone pollution and its many public health threats, such as worsening respiratory problems.
This is especially dangerous for Westchester County in New York, which receives gas from the East 300 line. For decades, Westchester's air quality has not met Clean Air Act standards due to high levels high ozone.
However, FERC only looked at air pollution in a small area around each compressor station. He ignored most of the air pollution the project will cause, especially downstream emissions. By approving such a large gas capacity expansion, FERC will degrade local air quality in Westchester County.
FERC ignores state climate law and local gas hookup bans
Under the Natural Gas Act, FERC must consider "all factors bearing on the public interest" in deciding whether to approve a new gas project. This includes any information that may contradict the developer's claim that users need more gas capacity.
Despite this, FERC ignored New York State's Climate Leadership and Community Protection Act and its bold decarbonization demands. These include mandates to cut economy-wide emissions by 40% by 2030 and 85% by 2050. These are not mere suggestions, as FERC claims.
A New York court recently recognized that the CLCPA emissions requirements are binding. The court upheld the denial of air permits for the Danskammer gas-fired power plant project. He argued that the plant's potential emissions would make it "inconsistent with or interfere with achieving the goal [CLCPA's] Statewide GHG emission limit for 2030."
The CLCPA is already reshaping New York's energy landscape. But FERC has buried its head in the sand when it comes to the state's clean energy transition.
Additionally, New York City's electricity and gas are served by the ConEd utility, which gets its gas from the East 300 line. But New York City recently banned new gas connections in the city. . The ban will significantly reduce gas demand in ConEd's distribution network, of which NYC takes the lion's share.
Albany state lawmakers and Governor Hochul are set to follow New York City. They are now considering a statewide ban on gas hookups for new construction. As New York City moves closer to its goal of net zero emissions by 2050, it will significantly reduce its gas consumption. In light of these rapid changes in New York's energy landscape, the need for the increased capacity proposed for this project is questionable at best.
FERC has approved a project that will likely become unprofitable during or shortly after completion. But ConEd taxpayers would be required to cover the costs of the project. FERC insists that these glaring issues are not among the "public interest factors" it must consider. But FERC is wrong, and we are suing them for it.
You can help us fight fracking and FERC
If the East 300 project goes ahead, gas utilities will continue to benefit from increased fossil fuel pollution. This will lead to more community devastating pollution and climate devastating emissions.
We fight East 300, but the fight goes deeper. We can secure a better, more sustainable future for New York City through a rapid transition from fossil fuels. New Yorkers can contact their state officials to tell them that the state must follow the City's lead and ban new gas connections. And you can support us in our fight with FERC, and in all of our work, by becoming a member of Food & Water Watch today.
Help us fight for a greener future in New York and beyond.