Kyla Ellis, Spears HTM Junior Wins 1st Place at DECA International Competition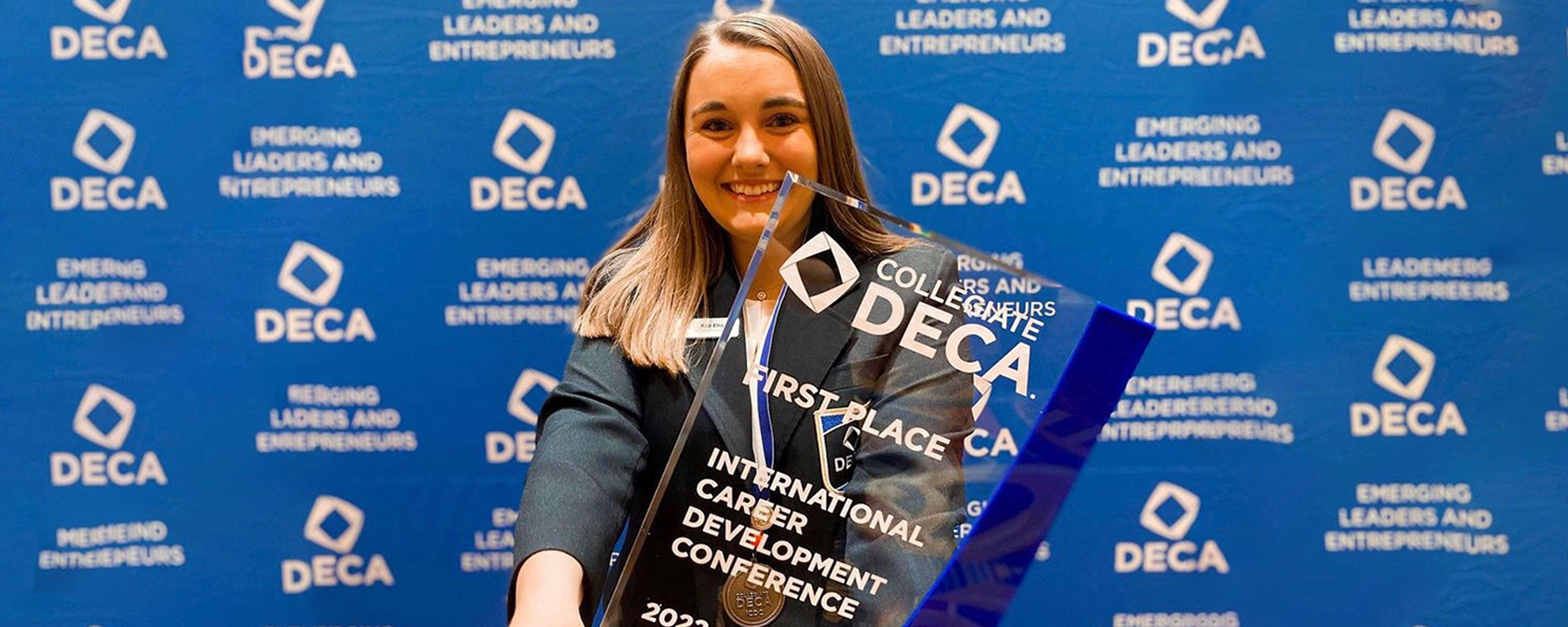 Thursday, April 21, 2022
Media contact: Bailey Stacy | Communications Coordinator, Marketing and Communications | 405-744-2700 | [email protected]
Kyla Ellis, a junior in hospitality and tourism management, won first place at the Collegiate DECA International Career Development Conference in Baltimore April 9-12.
Ellis competed in the Entrepreneurship-Starting a Business division against students who are "the best of the best from all 50 states and several countries around the world."
Ellis, a junior from Edmond, Oklahoma, is studying hospitality and tourism management with a concentration in event planning. She plans to graduate in May 2023 and then hopes to open her own business, Events Unboxed.
Distributive Education Clubs of America (DECA) is a business student organization that prepares emerging leaders and entrepreneurs in business principles through leadership, community service and competition. The Collegiate DECA International Career Development Conference offered leadership workshops, competitive events, career expos, networking, and a professional development series, to name a few.
Under the Collegiate DECA Competitive Events program, participants can participate in five events: Business Management and Administration, Finance, Hospitality and Tourism, Marketing, and Entrepreneurship. Within each event, there are more specific topics that students can present on.
Ellis competed in the entrepreneurship category focusing on starting a business. The event brought together 1,000 students, as well as counselors and staff.
She pitched her own business idea of ​​Events Unboxed. In its specific category, it faced 24 other teams in the preliminary round and then against nine other teams in the final. Teams range from one to three members.
Each team wrote a 15-page document that included their company's overall business plan and financial reports. Then presented for 10 minutes before having a 10 minute question and answer period with the judges.
At this competition, there were three people from Oklahoma – two of whom reached the final, and then the winner, Ellis. It was the first time in 20 years that the winner had come from Oklahoma.
Ellis has been with DECA for six years. In 2020, she started a collegiate chapter at Oklahoma State University and last February completed her term as the first Oklahoma Collegiate DECA State President on Council 1.
"If I had to pick one person who inspired me to go as far as I could in DECA, it would be my high school DECA counselor, Kim Walters, or Walt as I call him," Ellis said. "She pushed me, challenged me and never let me stop until something she knew I wanted (like winning a DECA drink)."
Ellis looks forward to helping others by opening Events Unboxed after graduation.
"It was born out of a desire to help people celebrate," she said. "We deliver pre-themed, packaged parties with the option of personalization delivered right to your door. The birthday party industry is worth $38 billion. wish a social media ready party.
Story by: Alexis Hightower | [email protected]