Make decisions now. | About Verizon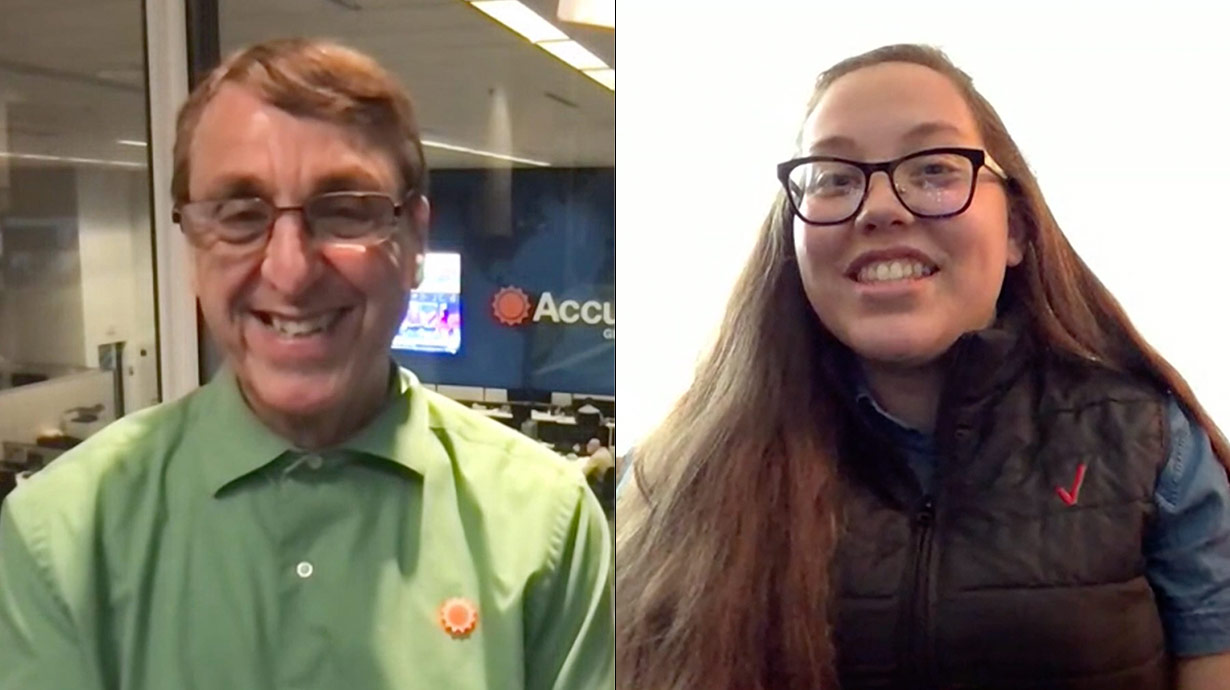 In today's episode of Up To Speed ​​Live, host Andy Choi started outside in the crisp New Jersey air in preparation for today's topic: hurricanes and the commitment of our network team to run into a crisis. But first, host Raquel Wilson shared the following updates:
Review of the week Up To Speed
Tuesday: We announced the biggest upgrade ever as we started offering a 5G phone with one of our best unlimited plans for existing and new consumers and small businesses.
Wednesday: Christy was live with Andy answering all of your questions about Work Forward, including the timing of the Hybrid Waves until when Food Services returns to the office.
Thursday: We heard from enthusiastic V Teamers from the seven new 5G Origin Cities, which will bring us to 40 5G Origin Cities by June 10.
Talent GPS
Also this week we presented a preview Talent GPS, which will help us attract and retain top talent by giving you the tools and resources to navigate and grow your career. From the response we got, it looks like all V Teamers are excited about career autonomy.
Another better ranking for Verizon
And now some exciting news: Verizon Ranked 7th in Top 20 Fortune Companies for Diversity and Inclusion. This ranking was based on 14 key metrics, including the percentage of minorities on the board, employees who are women, and employees with disabilities. When it comes to diversity and inclusion, we don't just talk, we walk.
Another donation from the Verizon Foundation
In other good news, Chris Serico of our communications team, and Jessica Cohen, state government affairs manager for Verizon, made a surprise appearance on WKYC, NBC's Cleveland subsidiary, to reveal the Donation of $ 100,000 from the Verizon Foundation to support the services and programs of an Akron, OH-based AAPI charity, Asian Services in Action.
The donation is part of Citizen Verizon's responsible business plan – which focuses on digital inclusion, climate protection and human prosperity – as well as the Verizon Foundation's $ 5 million pledge to organizations advancing racial equality for the AAPI community.
AccuWeather
We have already entered the 2021 hurricane season. Andy and Raquel spoke with Dan Kottlowski, senior meteorologist and senior hurricane expert at AccuWeather. Dan reminded us that 2020 was the most active hurricane season on record, with 30 storms including 14 hurricanes, 11 affected in the United States and seven major hurricanes with winds of 115 miles per hour or more. Verizon's response team was on the ground to help families, businesses and first responders stay connected during these emergencies.
Dan said we expect another active season this year. Forecasts are six to ten hurricanes, including three to five major. "The big problem is that the water temperatures are warmer than normal, which could allow hurricanes to get bigger," Dan said.
If you live near the ocean, consider this statistic: Storm surges kill more than anything else in a hurricane.
Some key questions Dan recommends asking you as we head into the heart of hurricane season:
Do you have an escape plan?
Where are you going?
What are you taking with you?
What should you do with your home or business before you leave?
What are you going to do with your pets or livestock?
What is your plan for members of your extended family who are physically or mentally disabled?
Dan recommends having a hurricane kit ready with enough water to last three to five days for the whole family. He cautions that shelters often don't have enough food for everyone for several days, so bring food as well. And even if you are staying with relatives, don't forget about extra clothes and medicine.
"Make decisions now. Don't wait until the storm is on the map, "Dan warned.
Accessories to weather the storm
Andy and Raquel spoke to solutions specialist Alexa Velliquette of Merritt Island, Florida, who shared tips on some useful accessories we sell in our stores that can come in handy in an emergency. These include one of the many portable batteries and power supplies that can help keep your devices charged when your home is out of power.
"When disaster strikes, there are a lot of things you can't control, so it's important to control what you can in advance," Alexa said.
VtoV Employee Relief Fund
One way to help your fellow V Teamers affected by hurricanes is to donate to our VtoV Employee Relief Fund. This major charitable organization provides assistance to Verizon employees displaced from their homes due to a natural or personal emergency. While we hope you never need it, the money you donate today may one day help your own family or close friends on Team V when help is needed.
Monday 5G quiz
And be sure to refresh your 5G information. On Monday Up To Speed ​​at 12 p.m. ET we have a 5G 101 quiz that will test your knowledge and hopefully teach you something new. And you know, when it comes time for the quiz, there are prizes up for grabs. So join us on Monday.
Welcome to Manon
We welcome to the V team the new COO and Deputy CEO of the Consumer Group, Manon Brouillette. She will lead Verizon's leadership in the connected 5G experiences market, while continuing to transform VCG into a fully integrated technology company. Manon was most recently President and CEO of Videotron, a Canadian telecommunications company that provides home broadband, pay television and wireless communications services.
Named one of Canada's 100 Most Powerful Women, she brings a wealth of knowledge and experience to our business. Manon, on behalf of all of us, welcome to the V Team!
Happy Birthday
Today we wish a happy birthday to our very good friend Matt Fiedler. You've certainly seen Matt in some of our most hilarious Up To Speed ​​episodes, but what you might not know is Matt's incredible talents as a video editor. Just about every bit of video you see on Up To Speed, it's behind the scenes to make sure the footage you see on this show is perfect.
A very wet signature
Speaking of bad weather, our signing came from Tyler Dunn, a member of the Network Real Estate team from Raleigh, NC who did a great job staying positive during a storm. Thanks, Tyler!
If you have any questions, email them to [email protected]
Click here for a transcript of the webcast.
Get the latest information on our Coronavirus Resource page (inside Verizon, The street).