Ross & Cromarty's Creative Minds Impress University of Highlands and Islands Business Competition Judges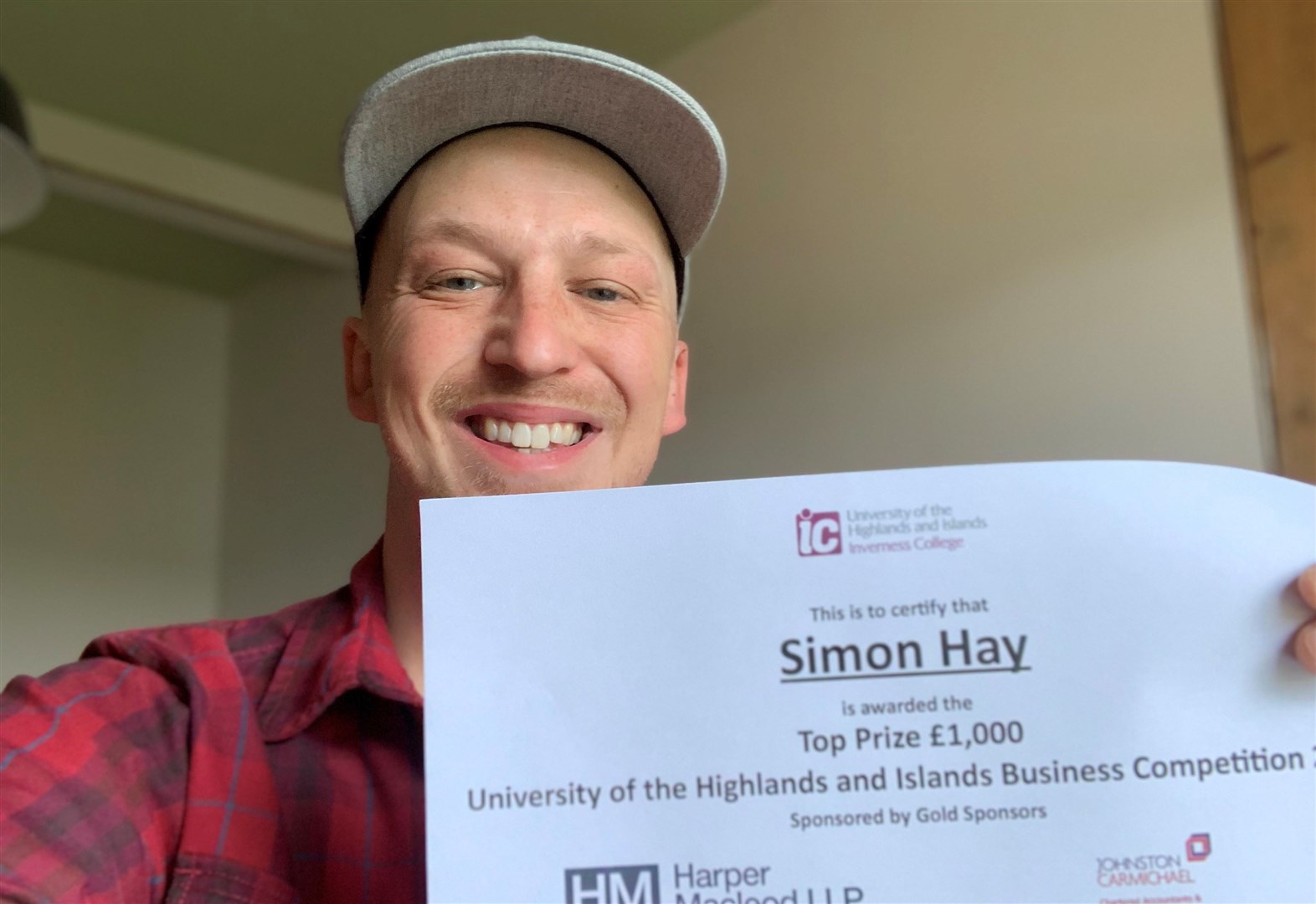 [ad_1]

A Black Isle man-designed AGRICULTURAL system that will grow sustainable crops in Scotland year round has won first prize in the University of the Highlands and Islands Business Competition.
Winner Simon Hay, from Fortrose, was inspired to start his business Green Space Farms during the lockdown while volunteering for a charity in Edinburgh delivering food parcels to people in need during the pandemic.
"It really made me understand the types of food that people ate and, more importantly, the foods that they weren't," he said.
"Much of the food we pick up at the supermarket has been in transit for at least a week and has lost huge amounts of its nutrition, not to mention the impact on our carbon footprint. Food needs to be sustainable, reliable, affordable and local for everyone in Scotland.
Mr Hay's idea for a modular, vertical freight farming system that would use redundant land and create the perfect growing conditions to deliver organic and economical produce, won him the top prize of £ 1,000 and a combined legal and accounting package and an additional £ 750 for most innovative business.
He was among nine finalists who took home the £ 8,000 prize after wowing a panel of entrepreneurs and business development experts with their ideas during an online pitch session.
Also among the shortlisted finalists was Holly Philp, of Kyle of Lochalsh, who won the award for best business enterprise for creating a secure overnight parking area with waste disposal facilities for motorhomes and motorhomes on his farm to encourage more visitors to stop on the way to Skye. .
Managed by Create, which is part of the University Center for Remote and Sustainable Communities based at Inverness College UHI, the competition is open to all students studying under the UHI Partnership as well as non-students living in the Highlands and the islands, Moray and Perthshire. This year's competition attracted 90 entries.
Other winners included Inverness business partners Matej Papp and Ahmed Nassar, who took home the engineering award with their innovative boxing equipment designed to create a better training experience for boxing newbies.
Another Inverness resident, part-time jeweler Lauren Pyott, won the Social Impact Award for Clachworks, a new social enterprise creating a socially inclusive space to make and remake in Inverness.
Also from Inverness, 57-year-old grandmother Sarah Speakman won the bookkeeping package with Ness Natural Flowers, a community-based social enterprise flower farm that encourages people to make more eco-friendly choices. the environment when buying flowers.
"As with food, there is growing interest in where the flowers come from," she said.
"My idea seeks to connect people with each other, but also with the natural environment, which is good for mental and physical health."
The award for best presentation went to Steve Hunt, an electrical and mechanical engineering student at Inverness College UHI, who hopes to patent an improved design for a low-energy ion accelerator used in specialized medical devices.
Top Business Student Award winner Holly Richardson from Blairgowrie, a former NQ business student at Perth College UHI, has an idea for affordable, trendy and wearable smart technology that identifies crises before they happen.
Marc Forbes of Dundee, an HNC aeronautical engineering student at Perth College UHI, won the award for best research idea with a phone app that can track a lost wallet or keys.
Youth entrepreneurship winner Stewart MacLennan, a business student at Lews Castle College UHI, wants to open an affordable weight training center in Stornoway.
Professor Chris O'Neil, Director and CEO of Inverness College UHI, said: "Once again I was very impressed with the quality of the applications and the innovation, ambition and creativity that have shown all our finalists. It's incredibly exciting to play even a small role in supporting these new businesses. "
More business news
---
Do you want to respond to this article? If yes, click here submit your thoughts and they can be published in print.
---
[ad_2]