Search Local: The Benefits of Small Scale Regional Mergers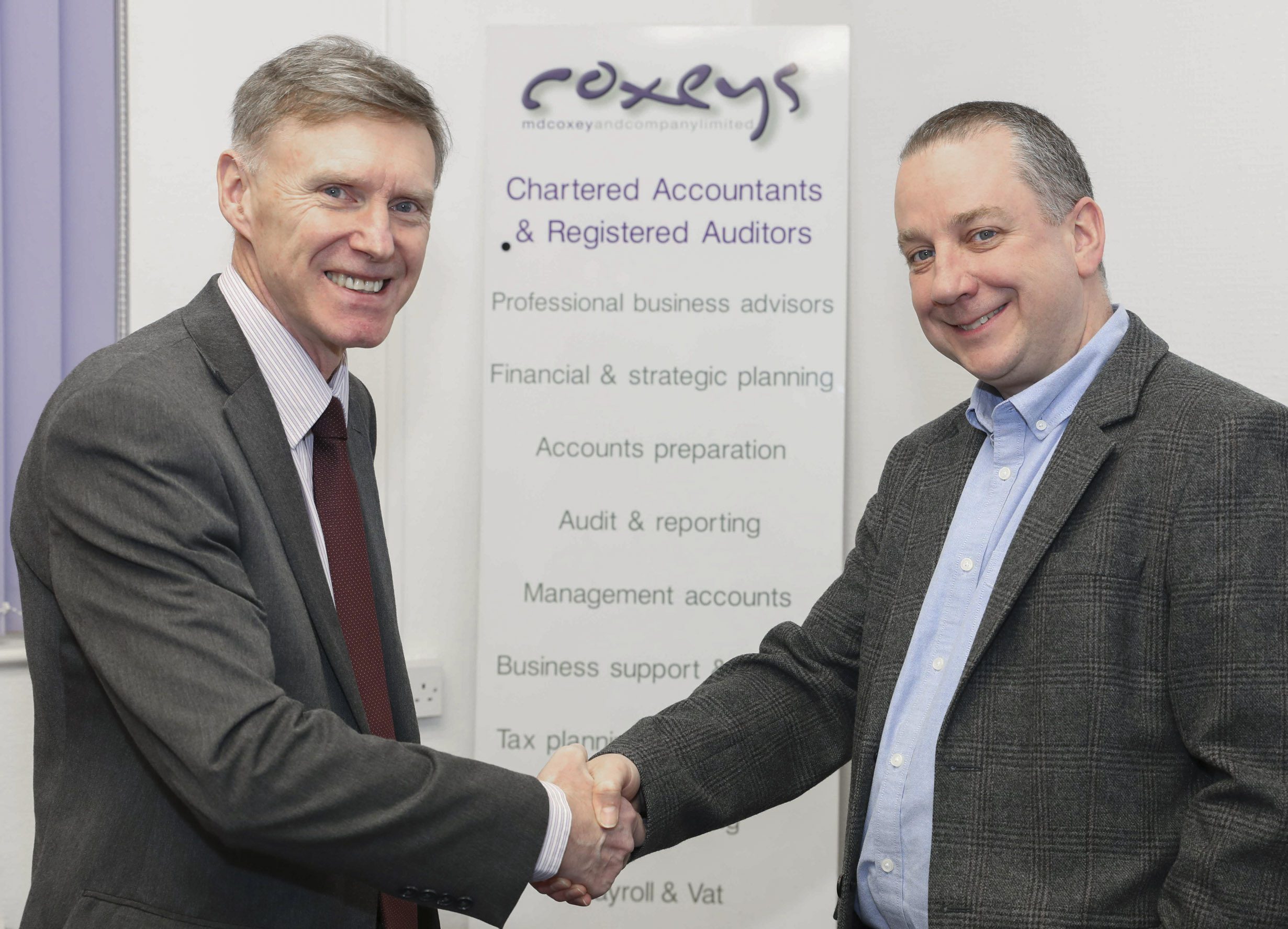 "Spreading further from our local area makes it harder to implement the hands-on teaching approach we offer. If all the offices are in the same region, it's very good for business-to-business relationships," says Anthony Lewis, managing director of accounting and auditing firm Coxeys.
Just last week news broke of the company's plans to merge with Martin Williams and Co, located across the hall from the same building in Saltney. Coxeys has clients across the UK in Wrexham, Shrewsbury, Liverpool, Manchester, London, Edinburgh and Glasgow, as well as overseas including Africa, America, Canada and Japan.
As Martin Williams and Co is a team of six, why has Coxeys decided to merge with a local business instead of a larger company that will further strengthen its footprint? "Martin Williams and Co have a number of clients in areas we don't have current experience in," says Lewis, "which will then enhance our staff if they can train in those areas as well." Coxeys is a training business for both the ICAEW Institute and ACCA, and Lewis reveals the merger will allow its Chartered Accountant trainees to better complement their training and, in turn, introduce a new generation of accountants from the region. "The merger will provide our interns here with a wider choice of customer types and industries; they will acquire knowledge in different fields.
Coxeys has maintained a low staff turnover rate over the years, and the company says it will not make any redundancies as part of the merger to ensure continuity and provide the same opportunities for development and growth. Coxeys now employs over 40 people, including 10 qualified accountants, but how has the company managed to maintain low staff turnover?
Lewis says, "We always encourage people to train, whether they're accountants, tax specialists, payers or administrators. We value all staff but also encourage versatility; for example, we train our administrative staff not only in company secretarial work, but we also train some of them in payroll. He explains that this ensures staff stay happy and motivated, making them less likely to leave the company.
Advantages of merging locally
"Team strength can only be built in close proximity to each other. Staff can move from office to office, work with different people and get to know each other's skills and knowledge so we can all help each other. If we set up another company 100 miles away, there wouldn't be the same interaction between team members, and that sets us apart," says Lewis.
Similarly, Daran Harding, Business Development Manager at Dains Accountants, explains that merging with a company in the same region creates efficiencies. "When a similar task is undertaken by both companies, economies of scale can be created by bringing these people together and simplifying the process." Therefore, this can then create the ability of these employees to perform other important and customer-oriented tasks in the business.
Harding adds, "One of the biggest challenges many companies face is recruiting. It is still difficult to recruit the right candidates; I don't consider there to be an absolute pool of people we can choose from. Therefore, if a business merges with a local business, their staff will come in immediately, and they will have ongoing work to bring with them, adding to economies of scale. BDO says a labor shortage and rising employment costs are likely to hamper business growth, as 40% of businesses worry about finding employees with the right skills, and 35% report a lack of workers capable of working the hours the company needs.
Similarly, Clive Hatchard, partner in the corporate finance team at FRP Advisory, reveals that if companies merge in the same region, the respective companies can physically be consolidated into one office, which can help both financially by freeing up operating costs, but also in terms of integrating people so they feel like one company rather than two separate companies which will more likely be the case when merging with companies in different fields. "If you are two well-known companies in a small region, the fact that you have come together will make this critical message much more evident. The combined reputation will be known much faster in a local community.
How to successfully merge
According to Hatchard, companies should consider the business objective, whether it is to improve geographic coverage, expand or obtain a certain type of customer base, introduce a range of services that the company does not currently offer or to recruit people in a "very difficult market". By clarifying the direction of the merger, the company will ultimately be able to incorporate this objective into the merger which, in turn, will make for a smooth transition.
He points out that by identifying the path in which a company wishes to grow, the financial aspects of the merger will fall into place. For example, private equity interest is currently increasing in the M&A market for accounting firms. "There is an increase in private equity firms looking to invest in a reasonably sized accounting firm to use as a platform for consolidation in the industry; it seems to come back to the fore. KPMG analysis reveals mid-market private equity investment in the UK in 2021 reached highest level on record, with 803 private equity deals worth £46.8bn sterling concluded last year. The UK private equity market as a whole recorded a total of 1,545 deals worth £159.2 billion completed in 2021, compared to 1,117 in 2020 and 1,246 in 2019.
Meanwhile, Harding says one of the most important aspects of creating a successful merger is cultural alignment, which is "always one of the hardest things to find in accounting" because it's companies are unlikely to find a perfect fit. "Companies need to have an identity because it leads to clarity in terms of the company's vision. Otherwise, it's almost like there are two different companies that have the same brand, working from different offices, offering different things in different ways. The look and feel of delivery for all services offered should be consistent. »
This then makes it easier for a potential customer to understand what they're getting into, what to expect, and what the experience should be like. "When merging companies don't have this consistency, it makes the message very blurry and difficult to understand for both existing and new customers." If there is no cultural alignment, there will be a mismatch in values, which will impact everything from simple phone calls to how services are delivered and the future of businesses.
Moreover, the diversification of offers is another important criterion to consider because it could be that a target company that a company seeks to acquire has additional services that the company does not currently offer to its customers. "It may be something you would like to offer, but you just don't have the expertise or the background to offer this service. Immediately, there are synergy benefits as this new service can be rolled out to an existing customer base with the aim of keeping them on board and demonstrating that the company is continuing to do all it can to support them.
What indicates that a merge might not work? "One of the biggest issues is employee positioning," says Hatchard. When two companies merge, two boards or two groups of partners come together, which means that people are effectively competing for the same job. For example, a firm cannot have two chief audit executives and two corporate finance chiefs, so someone has to take the lead. "However, people are often not happy to take precedence over others, which means they leave the company when they don't get the job they want."
To address this issue, Hatchard suggests that the two companies assess whether there is common thinking within the leadership group, in terms of where they want to lead the business, how they want to run it, and also agree to advance roles and responsibilities to prevent any mishaps and determine how the business will operate after the transaction. "If you get it wrong, the financials will never happen, although theoretically it should be fantastic."
Meanwhile, the biggest challenge Coxeys has encountered with its recent merger is data integration. "Most of the issues we've had with the merger have to do with integrating the IT systems that hold customer data," says Lewis. Despite a plan laid out before the start of the merger process for how to export data to Coxeys systems, aligning the systems posed a hurdle.
"Data and data security are critically important, so having a consistent format rather than in disparate jars is important," adds Harding, "as it makes collecting and querying analytics too difficult. ". Therefore, data integration is an important feature to consider before agreeing to a merger as, without having customer records and performance data in one place, it can create "unnecessary" challenges around production. information.
He explains: "The important thing is to focus on the customers and to be an advisor. We can't do it as efficiently if we have data integration issues; it is the foundation of the practice. Our goal is to serve customers and examine opportunities and efficiencies for them. We don't want to work with disparate pieces of data. Therefore, companies should ideally seek to have similar systems in place so that staff can focus on advancing the practice, rather than the administrative tasks of querying and integrating data.
Overall, to be successful in a merger, Harding advises companies to make sure everyone within the company is on the same page in terms of understanding the reason for the merger. Moreover, there are indeed "good quality" advisors and financiers in place to take this independent view in support of a transaction.
Additionally, Lewis reveals that companies should be more cautious about a merger if they don't already have a stable ship. "If you have a revolving door of staff, you wouldn't trust that you could do a successful merger. You would always worry about being able to properly meet a client's needs without having a quality staff base to support them. Therefore, knowing the new team before initiating a merge is "essential" to keep the ship stable; "You might be able to change the culture there and create a happy team, but that might be a lot more work than merging with a company where you already have that in place."