StartUP FIU's Crash Kitchen team among the finalists of the national Hult Prize startup competition | FIU News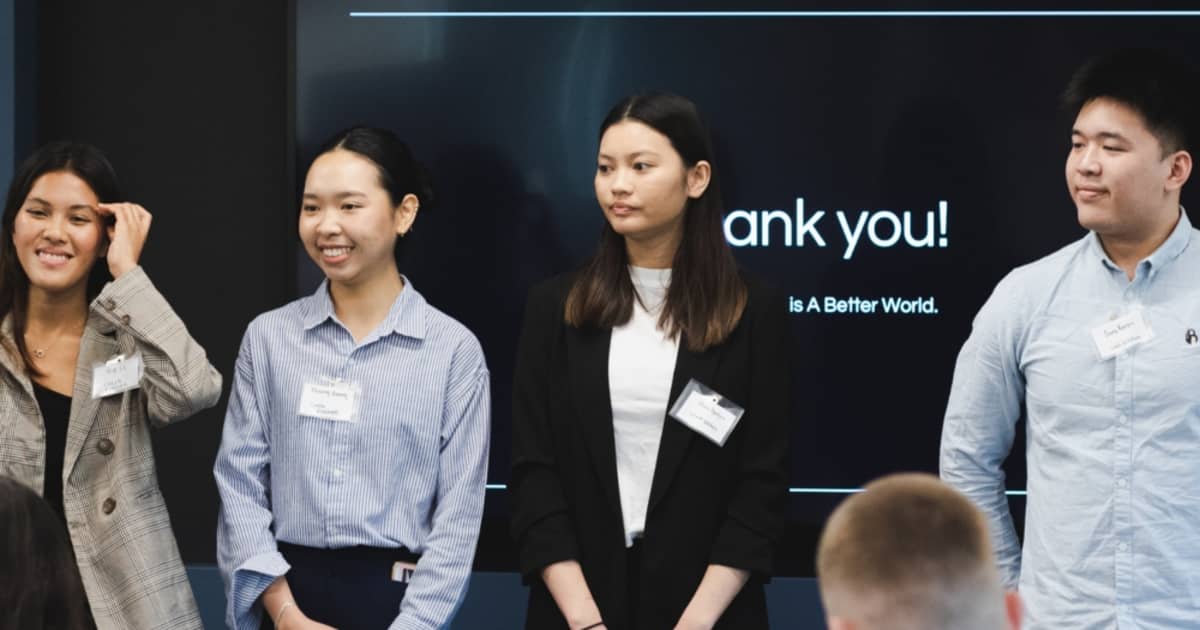 By Irene Ferradaz
Asked about the unique name of their business – Crash Kitchen – Dang Nguyen '22 bursts out laughing.
"It comes from our local Vietnamese language," he says. "Crash" represents the familiar flavor of home cooking, reminding customers that food will always taste homemade when created in our kitchen. »
Four friends from the same region of Vietnam who met as FIU students – Ha Le '22, Phuong Hoang, Uyen Nguyen and Dang Nguyen – have created their version of a cloud kitchen network that produces food specifically for delivery, but with a distinctly Vietnamese flavor. A cloud or ghost kitchen is a professional food preparation and cooking facility set up for delivery-only meal preparation. Cloud kitchens do not include a storefront or indoor seating for customers.
Inspired by family members who struggled to run traditional restaurants during the pandemic, the friends started researching the rise of online food delivery in Southeast Asia. When they realized the potential for growth and profit, they decided to capitalize on what Vietnam is best known for: food!
With a general business plan in place, the team contacted StartUP FIU. The credits of Robert Hacker, director and co-founder of StartUP FIU; Michael Burtov, StartUP FIU Entrepreneurship Fellow; Ken Peters, Professor of Economics; and Gustavo Grande, Director of Venture Ready Programs, StartUP FIU, to help them hone their pitch and present a strong case to potential investors.
"StartUP FIU helped us create the backbone of our business model and marketing strategy," Hoang said. "Being in such a creative, collaborative and supportive environment has been a blessing."
The four students have organized themselves into a company. Le, a politics and economics student who graduated in the spring, is the CEO; Hoang, a hospitality and marketing specialist, is the CMO; Thao, a finance and investment banking student, is the CFO; and finance and hospitality graduate Dang Nguyen is the CTO.
The persuaded the other members of his team to enter the FIU Hult Prize, which StartUP FIU has been running since 2016. The on-campus competition is for college students and the winner moves on to Regional Summits, which are held in Boston for all U.S. teams. . Those who win at the regional summits then participate in the world's largest social entrepreneurship competition, held in New York; the winning team wins $1 million.
"We knew our idea was solid, but it needed to be refined with expert guidance," Hoang said. Even though two members of their team were working on their graduation projects at the time, they understood the value of competing for the Hult Prize.
After winning the campus-wide Hult Prize on March 26, Crash Kitchen then performed at the Virtual Regional Summit, held May 13-15 in Boston, competing against 30 college bands from around the world.
The team won 6th place.
"We could not have come this far without the mentorship and resources provided by StartUP FIU," Uyen Nguyen. "They spent hours helping us refine our business model, think beyond our intuition, and rehearse our pitches."
The Crash Kitchen team is now part of Hult Prize's Global Accelerator, a six-week program that helps develop entrepreneurs for the final competition in New York this fall.
As for future projects, Le and Thao register their project in a startup incubator in Vietnam. The team will continue to refine its business model, with the goal of making Crash Kitchen one of the largest delivery centers in Ho Chi Minh City within the next three to five years.